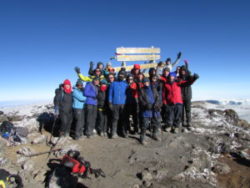 Naomi's Mount Kilimanjaro Testimonial
November 10, 2017
Introducing Naomi Cranston. Naomi is a loyal Shift Lenses customer, but also an outdoor enthusiast! In fact, this testimonial was filmed half way up Mount Kilimanjaro!
Naomi has been using Shift Lenses for 5 years now and she would never go back to contact lenses! Naomi answered a few questions for the blog, so you can learn about how Shift Lenses helped with her epic adventures and what they could do for you!
How much are Shift Lenses?
"The cost is between $1900 and $2250. $900 dollars of that cost is for the lenses. You can purchase insurance to cover the lenses for 12 months (for loss or breakage), which is great!
In the long run they work out much cheaper than disposable lenses. I have currently had my shift lenses for around 5 years and only had to replace a lens once, when I dropped it down a sink. Over 5 years I've spent the total of around $1400 which works out around $280 per year (or $5 per week) which is incredible for having 20/20 vision everyday!
Of course there's the small cost of the solution and lens cleaner. It's also recommended to get the lenses polished every 6 months but these are small costs in comparison to having other forms of correcting lenses. I know some people who need one eye fitted."
How long did it take to get used to Shift Lenses? 
"It took a couple of days to get used to putting the lenses in. It mainly just felt strange when I opened my eyes, as it was the feeling of my eyelids moving over the glass like surface which felt a bit scratchy. But after a few days my eyes adjusted to them and it only took a few days not to notice the feeling of them being in.
The only time I have had some difficulty is when my eyes were very swollen and sore due to allergies (cats and pollens) which made it harder to take lenses out. However, leading NZ optometrist and co-owner of Rose Optometrists, Jagrut Lallu, treated my allergies with some drops, and then they were fine again!"
Are there any other benefits outside of vision correction? 
"Obviously having 20/20 vision throughout the day without having to wear anything on or in my eyes is the big win. The other big benefit I have found is that my vision/prescription hasn't changed since having the lenses, which is awesome.
My optometrist, Jagrut Lallu, mentioned at my initial consult that shift lenses can slow the progression of Myopia and that has definitely worked for me!"
Why should others try Shift Lenses? 
"I would highly recommend shift lenses to anyone that currently uses glasses, daily contacts or needs vision correction. For those that lead active lifestyles, especially involving water sports – shift lenses are the absolute best for not having to worry about contacts falling out during these activities.
Wearing lenses whilst surfing used to drive me nuts as I'd lose one almost every surf. I'd then spend the rest of the session with one clear and one blurry eye which made it much harder to read the waves! For those that don't necessarily participate in water sports I still think shift lenses are a top choice for two main reasons;
1. They will most likely work out to be cheaper than most contacts or glasses in the long run (assuming you don't have to replace your lenses frequently due to losing them).
2. They are so easy and comfortable to wear while you sleep and you don't have to worry about eye irritations during the day. With disposable lenses I always used to get dry and itchy eyes when I was out later in the evening or in a smoky setting, such a pain! Wearing shift lenses means I no longer have this problem.
To sum it up, shift lenses may sound like a strange concept (wearing them while you sleep for 20/20 vision during day) but they truly work. They give you so much more freedom during the day; 20/20 vision without the hassle of lenses falling out, being broken or having to worry about eye irritations."  
We hope you enjoyed the question and answer session! We wish you all the best on your future adventures, Naomi!
By using Shift Lenses, you could have 20/20 vision in just a few days! Our revolutionary vision treatment is changing the way you see the world every day.
Contact us for a free suitability consultation today: www.shiftlenses.com
---