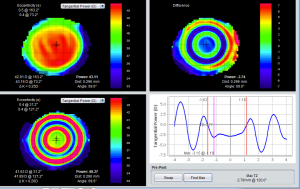 Myopia Control options – MiSight now available
August 31, 2016
There are only a handful of trial sites world wide that can supply the MiSight contact lens for myopia control. This lens was developed by the University of Auckland. This research based lens is designed to slow down the progression of myopia or short sightedness. Visique Rose Optometrists has been a part of a global trial for the last three years. The MiSight contact lens is the only soft contact lens that has been research proven to slow down myopia progression. Myopia is slowed down by the careful manipulation of light rays onto the back of the eye to create a scenario whereby the eye responds by slowing down its gradual elongation.
For many patients with myopia (shortsightedness) there has been no cure let alone a treatment that can slow down the progression of short sightedness. Visique Rose Optometrists was the first clinic in the country to setup a myopia control clinic which aims to used research based methods to slow down myopia. The options for correction are available on the website http://www.themyopiacontrolclinic.com.
If you are interested in slowing down your son or daughters myopia then contact Visique Rose Optometrists for a free suitability consultation. This clinic deals in options to correct a wide range of prescriptions including myopia and astigmatism.
---